Collaborative Just Culture™ Trust, Transparency, & Reliability in Law Enforcement (what every Police Executive should know)
Presented by: Charles A. Gruber - Police Chief (ret.) and K. Scott Griffith - President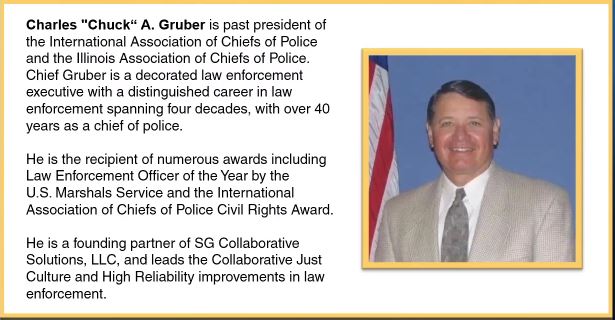 Course Description:
This innovative course provides police executives with the tools to see and understand risk, and to recognize and instill reliability in systems, personnel and the organization.
Goal
Present the concepts of Collaborative Just Culture to police executives, and explain how to implement it in their agencies.
Objectives
By the end of the seminar, participants will:
Understand why Just Culture is necessary in today's law enforcement profession
See and Understand Risk
Recognize System Reliability
Recognize Officer Reliability
Recognize Department Reliability
Bio
Charles "Chuck" A. Gruber is past president of the International Association of Chiefs of Police and the Illinois Association of Chiefs of Police. Chief Gruber is a decorated law enforcement executive with a distinguished career in law enforcement spanning four decades, with over 40 years as a chief of police. He is the recipient of numerous awards including Law Enforcement Officer of the Year by the U.S. Marshals Service and the International Association of Chiefs of Police Civil Rights Award. He is a founding partner of SG Collaborative Solutions, LLC, and leads the Collaborative Just Culture and High Reliability improvements in law enforcement.
K. Scott Griffith is the president of SG Collaborative Solutions, LLC. He is a former international airline captain and director of corporate and flight safety at American Airlines. He is the recipient of the Admiral Luis de Florez Flight Safety Award for his outstanding contribution to aviation safety. Over the past two decades, he has been a pioneer in organizational high reliability and collaborative just culture. His work has led to improvements in numerous high-consequence industries beyond aviation, including healthcare, nuclear power, the fire service, and law enforcement.
Presentation duration: 46 min
This course satisfies 46 min of your 20-hour annual requirement
To take this course go to www.ptblearning.org and login