Higher Education Partners
American Military University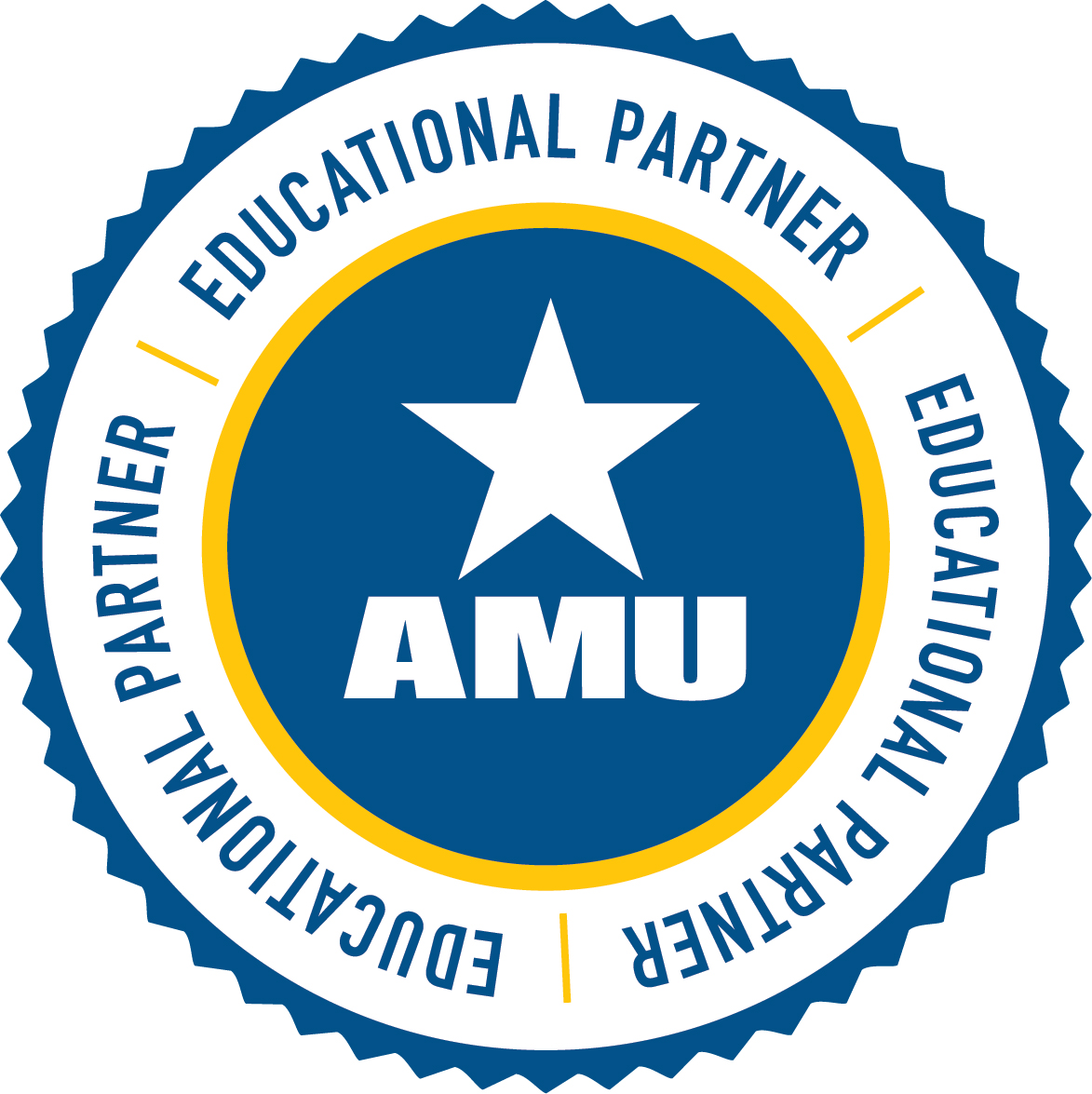 At American Military University (AMU), we understand that knowledge is your best defense. That's why we have a longstanding history helping law enforcement professionals advance their knowledge—supporting leaders and officers who wish to enhance their communication, problem solving, and critical thinking skills.
  Through a partnership with AMU, members of the Illinois Association of Chiefs of Police (ILACP) and their families are eligible for a tuition grant and waiver of the university's technology fee. With your partner grant, undergraduate tuition is $270.75 per credit hour, and undergraduate textbooks are offered at no-cost. Master's-level tuition is $351.50 per credit hour.
  AMU offers more than 200 online degrees and certificates in fields such as business administration, criminal justice, cybersecurity, emergency and disaster management, fire science, homeland security, and intelligence studies. At the doctoral level, programs in global security and strategic intelligence are available.
  As an ILACP member, you can extend these benefits to the sworn and professional staff members of your departments. Contact us to learn how you can take advantage of this opportunity.
>>Learn more<<
---
SIUE is a nationally recognized university that provides students with a high-quality education that powerfully transforms the lives of all individuals who seek something greater. Home to a diverse student body of more than 13,000, SIUE's beautiful 2,660-acre campus is a short drive from downtown St. Louis.  
The Department of Criminal Justice Studies offers a bachelor's in criminal justice studies; an undergraduate minor; and partnerships with several other interdisciplinary minors, including forensics, pre-law and women's studies. 
The online degree completion program combined with SIUE's online general education curriculum allows students to earn a bachelor's in criminal justice studies fully online.
The fully online Master of Science in criminal justice policy focuses on the advanced study of criminal justice policy and practice, including:
Analysis of controversial issues

Examination of possible future practices

Collaborating with criminal justice professionals in the courts, corrections and law enforcement areas
A strong foundation in theory and methods are combined with innovative criminal justice initiatives and focus areas. The program offers real-world experience with a capstone project option targeting the needs of the student's home agency and recognizes the value of such experience with the option of prior learning assessment. Visit siue.edu/artsandsciences/criminal-justice to learn more.
---

Calumet College of St. Joseph has been developing public safety professionals for over 60 years. 
Over 3,000 graduates use their knowledge and abilities to create a positive impact in their communities.
Ready to advance your capabilities and your career? Our accelerated Bachelor of Science in Public Safety Management and new Master of Science in Public Administration degree offer a unique mirrored format that empowers you to complete your degree while attending to your demanding schedule.
Grants and scholarships are available!
---

Master of Public Policy and Administration (M.P.P.A.)
Develop the skills and expertise to become an effective, forward-thinking manager and leader in Illinois Tech's Master of Public Policy and Administration (M.P.P.A.) program. Our rigorous, applied courses are taught by expert faculty who have both excellent academic credentials and extensive professional experience. Smaller-sized classes provide frequent interaction with faculty and other students from a variety of professional backgrounds.
Your Choice: In Person or Online
• Each course meets one evening per week
• Attend classes at our downtown Chicago campus or online
• There is no GRE/GMAT requirement for admission
We Have Options to Match Your Goals
• Choose electives to customize your degree
Study public and nonprofit management, analytics, finance, and policy analysis and implementation.
• M.P.P.A. with Security, Safety, and Risk Management Specialization
Learn cutting-edge security strategies, administrative skills, and leadership techniques to manage public safety and emergency preparedness programs.
• M.P.P.A. with Emergency Planning Focus
Designed to provide emergency management credentials for first responders and other public safety professionals to advance in supervisory positions.

For more information, contact Roland Calia, M.P.P.A Program Director at [email protected] or 312.906.6505