Traffic Safety Blog
May 15, 2020
By Jared Streder
TIO Introduction:
Hello everyone! I'm Jared, the new Traffic Intelligence Officer with the Statewide Terrorism &
Intelligence Center (STIC). I grew up in Springfield, Illinois, and I am a recent graduate from Western Illinois University. I graduated with a bachelor's in Geographic Information Sciences, with a minor in Weather and Climate in December 2019. Through my time in college, I had the pleasure of being the president of the Severe Weather Club. We discussed severe weather and conducted community outreach for storm safety on a weekly basis. I have created multiple projects in Geographic Information Systems (GIS) that would be beneficial to law enforcement and emergency management agencies. One such project related to storm surge data and included the demographic variances and population sizes of the places that would be affected by different severities of hurricane storm surges.
I started my position at STIC in March and I am actively accepting requests based on traffic safety needs. I am looking forward to getting started and starting to serve our community by producing reports and maps that have the potential to save lives on the road. 
Less Traffic More Speed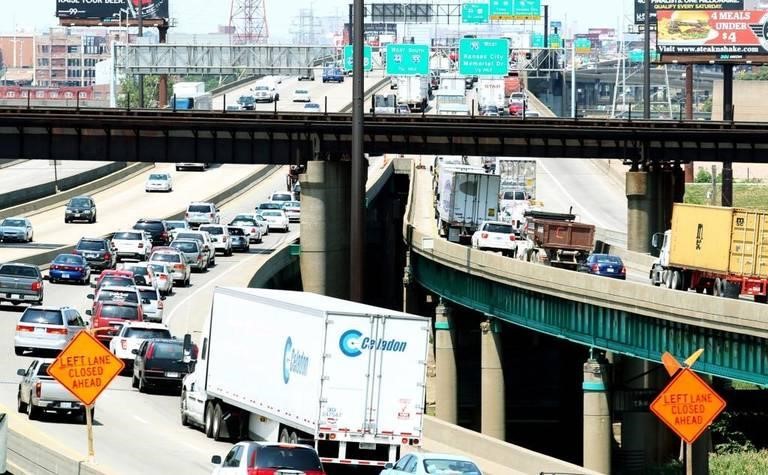 Picture Source: St. Louis Public Radio
The stay at home order has caused traffic rates to reduce substantially. However, this has led to more issues on the road in the St. Louis Metro area, such as the I-70 Stan Musial Veterans Memorial Bridge, as well as I-55 and I-64 at the Poplar Street Bridge. Since the roadways are more open, motorists have taken the opportunity to abuse the open road and increase speeds.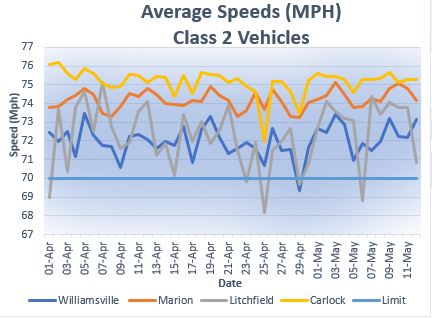 This has become a hazard for not only the motorists breaking the law, but also construction workers. Since there has been less traffic in the St. Louis metro area, Illinois Department of Transportation (IDOT) and Missouri Department of Transportation (MoDOT) have continued multiple projects on the interstates moving in and out of the St. Louis area. MoDOT reported parts of I-70 have experienced an abnormal number of motorists speeding over 80 miles per hour (mph) when compared to the previous years when traffic volumes were higher. At four different weigh stations around Illinois in Williamsville, Marion, Litchfield, and Carlock as displayed in the figure above average speeds for 'Class 2' vehicles have averaged above the set speed limit on a daily basis. In the following graph is displayed an average of all these speeds across these locations, again displaying speeds above the normal limit. The only downfall of this data is that it only records the closest lane to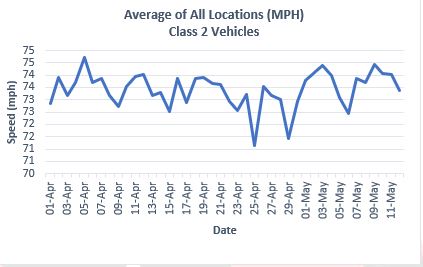 the weigh stations. However overall, we can see that speeds even in the closest lanes have averaged three to four miles per hour over the recommended limit. Governors Highway Safety Association (GHSA) has acknowledged this increase of speed on a national level. The biggest concern that GHSA has noticed is the influx of vehicles being clocked at 100mph or higher. Indiana has also seen an increase in speeds and clocked highway speeds over 100 mph. To combat this, GHSA and Insurance Institute for Highway Safety (IIHS) in partnership with National Road Safety Foundation (NSRF), are working diligently to implement a speed management pilot program to help work together to reduce increased speeds.
Sources: St. Louis Public Radio, GHSA
Share this post: